Of Adoption and delayed Obedience at Refreshing Assemblies Muyenga .
Last Sunday, as it slowly drizzled  with rain we thought to ourselves  this is a blessing. Mother Nature was  rooting for us on this particular Sunday morning. The previous mornings had been characterized by heavy rain downpours – but not this morning. By 9am we were at Refreshing Assemblies church in the green and quiet suburbs of Muyenga hill.
As soon as we entered the church we could feel the close knit relationship of this congregation. We were greeted by an usher at the entrance and with warm smiles as we made our way in. We felt at home right away.
After the praise and worship session, Pastor Moses introduced us to the crowd. He spoke very graciously about our mission at Child's i Foundation before I took the floor. As I held the microphone I felt calm as I couldn't wait (and because I had spent half the night going through the presentation and my notes!) When the words Ugandans Adopt flashed across the screen I was ready.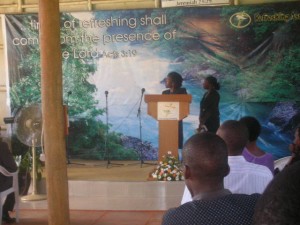 Part of the Ugandans Adopt Team at the presentation.
Our team was talking to the congregation about domestic Adoption and fostering in Uganda. We were taking the congregation through what it means to adopt, who can adopt and why Ugandans should adopt. And above all what it means to open up their hearts and homes to these abandoned children. How time flew fast
The highlight of the presentation was when we played Katie's story  and saw  different emotions play out on the congregations' faces. There was sadness, pain and then joy.Katie was abandoned a few hours after birth.However she found love and a family through adoption.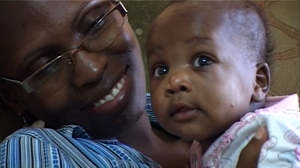 Katie and Mum.
When I finished, there was deafening silence. For a split second I was not sure what to expect until the congregation broke out into thunderous applause. It was the most rewarding experience.
Pastor Moses took over the pulpit and spoke about adoption and the church. He passionately appealed to the congregation to listen to their hearts, ending with "delayed obedience is disobedience."
After the service we had a great time meeting the congregation members. The great news is most of the members asked for directions to Malaika Babies Home, our transitional care centre. The women's group headed by Pastor Moses' wife has pledged to visit Malaika as part of their outreach, too. Even better news is that we have two new prospective adoptive parents. Over all it was a Sunday well spent.
I'd like to say a huge thank you to Pastor Moses and everyone at Refreshing Assemblies church for welcoming us – and for pledging to support us in any way they can.
We would love to visit your church, school, organization or business to talk about Ugandans Adopt. If you would like us to come along and present or if you're interested in learning more about adoption please email [email protected] or call us on 0794948309.