Love is All They Need… Adopt A Child
Child's i Foundation Launches Campaign to find Ugandan Families for Vulnerable Children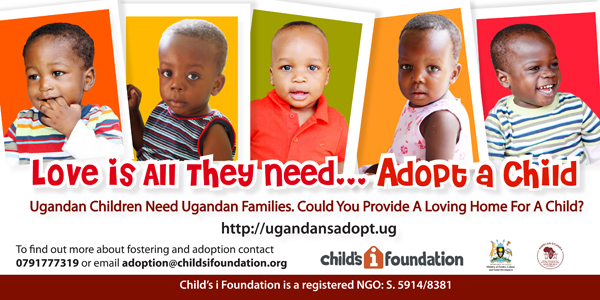 Child's i Foundation today launches a high-profile media campaign to find new adoptive families for abandoned children in Uganda.
From today, billboards across Kampala will show the faces of children in need of new Ugandan families, and a television and radio campaign is in place to help highlight this important issue.
There are hundreds of children in Uganda in need of loving adoptive families, and Child's i Foundation hopes that raising awareness of domestic adoption will encourage more families to step forward as potential adopters.
Child's i Foundation Head Social Worker Mary Blackwell said:
"We hope that this adoption campaign is going to bring the concept of adoption to the forefront of Ugandan families' minds, and show them that they have the ability to provide a loving home for children who have been abandoned.
"We passionately believe that children thrive and reach their full potential when living in a family environment, and we hope that this campaign will encourage families to open their hearts and homes."
Child's i Foundation is proud to be partnering with the Ugandan Government on this important campaign, and has worked closely with the Ministry of Gender, Labour and Social Development to promote a message that if successful could change the lives of countless children.
Assistant Commissioner for Children James Kaboggoza said:
"As government, we are happy to work with Child's i Foundation on this promotional campaign for local adoption.
"We believe that the best place for a child to grow is in a family environment. If children don't grow up in families but grow up in institutions, they lose the meaning of life.
"Unfortunately we find that very few Ugandans have come up to adopt. Inter-country adoption should only happen as a last resort, and we should try first to find alternative parents here, before we try inter-country adoption."
Child's i Foundation is promoting the issue of domestic adoption through the use of media, with billboard, television and radio adverts starting from July 4th 2011.
Click here to watch an interview with Assistant Commissioner for Children James Kaboggoza, talking about our media campaign